It's finally here, Christmas morning! I may be in my (late) twenties but I still can't sleep all through the night before. For those of you tearing (or gracefully opening) your lovely packages from friends, family, or loved ones this early morning here is a great post holiday project: thank you notes! These would also make for darling winter solstice or new years cards, with a different stamp of course.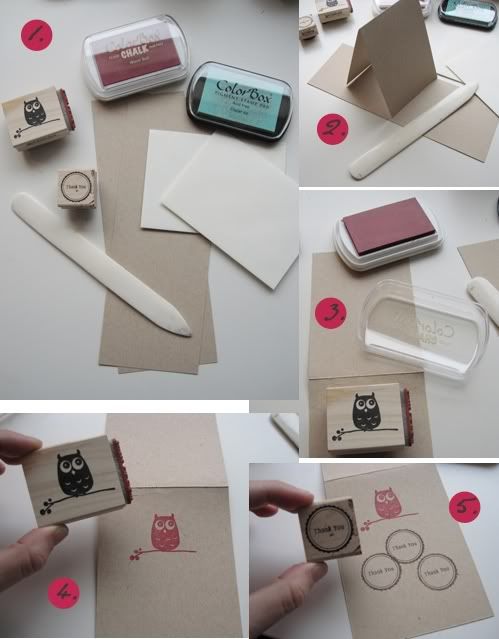 step 1: Your ingredients: 8.5 x 11 card stock, bone folder (or dull butter knife), stamps, stamp pads, A1 sized envelopes (these fit a 3.5 x 5 card), paper cutter, and a pen.
step 2: Cut your card stock into two 3.5 x 10 pieces. Using your bone folder fold your card in half to create a 3.5 x 5 folded card.
step 3: Starting with my owl stamp and red ink, flatten your card to make stamping easier...
step 4: I stamped the larger stamp towards the top so the thank you stamp had plenty of space
step 5: Using my small thank you circle stamp I stamped 3 times re-inking in between each stamp
step 6: Using a fine tip brown marker I drew three lines down to make the thank you's appear as little pendants
step 7: Incorporate your stamp on your envelope. It will go through the mail just fine!
step 7: I stamped the owl in the middle of the envelope so my address could be nestled inside.
step 9: Write your return address on the back flap to give your front address more space.
THANK YOU for spending these handmade holidays with me, this has been my most favorite blog project to date! I will be spending some much needed time with family and my sweetie, but I will be back very soon with a New Year's Eve collection crush, a few updated goals, Six Sweets for January, and some other fun things for the new year. Happy Holidays sweet bees!