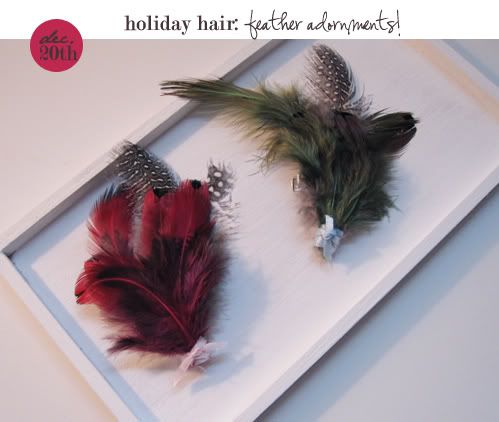 I made a batch of these for the recent
Crafty Wonderland
and adore slipping them in my hair this time of year! The best part being that they are so simple to make and each is an original made just by you.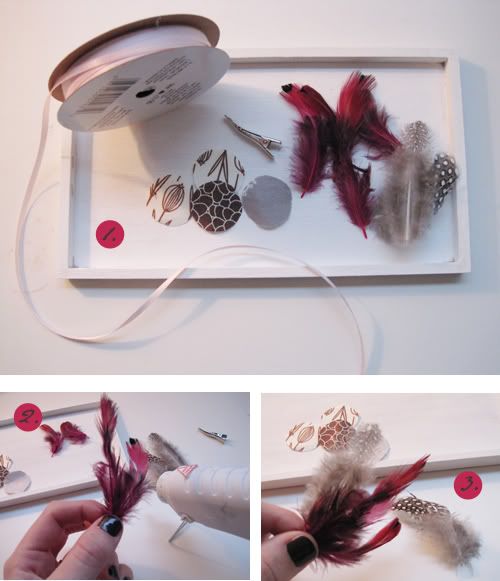 step 1: You will need to start with- single feathers (you can find these at any craft store in a bag for just a couple dollars), small piece of printed cotton, thin ribbon, alligator clip, scissors, and hot glue.
step 2: Start with a few larger feathers and begin layering them in hand to get the look you like. Place a small dollop of glue on the back of each feather as you layer them together.
step 3: For a little contrast mix and match bright colors with dotted black and white in the back.
step 4: Once your feathers are glued together finish off the ends with some ribbon. Cut an 8" strip of ribbon. Glue the middle of the ribbon to the top of your feather base. Then wrap in both directions finishing in the front in a knot.
step 5: Take your printed cotton and cut out a small circle, about 1 1/2" in diameter. Once cut out cut two tiny slits in the middle next to know another for your clip to slip into
step 6: Slip your alligator back through the slit in the cotton circle, glue the back down to the cotton
step 7: Place glue on the back of the whole cotton piece and attach to the back of your feather piece. Slip into your hair and enjoy!
These make for great gifts too, and who doesn't love a handmade gift? Stop by tomorrow for a darling gift under $5 (and with just 5 days until Christmas)!