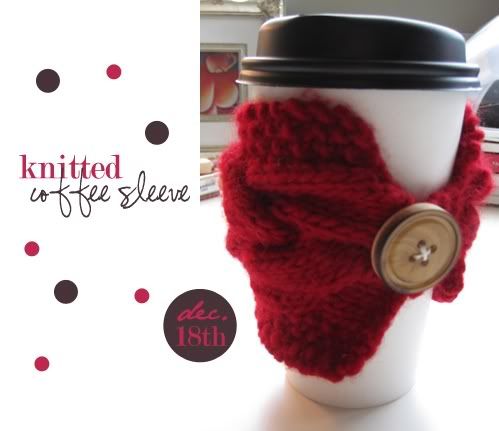 This is a project I have wanted to create forever. Well since I started knitting which was not forever ago, but still the project has been looming and just in time for the holidays! This sleeve was quite quick and may just end up in someone's stocking next week :)
step 1: gather your knitting ingredients: worsted weight yarn, needles size 8, cable needle, button. (if you are a beginning knitter you can handle this project, promise!)
step 2: I purchased this darling sleeve pattern from Etsy shop
Natalya's Studio
and highly recommend her patterns. As far as cabling goes, here is the basic how-to:
Cabling is simply slipping stitches onto a holding needle, knitting across, and then knitting the stitches you set aside back on. Moving them to the side (or onto your cable needle) and then knitting them back into your working needle creates a cross that over several rows will look like a braided twist, or cable.
If a pattern reads C6F, this means slip 6 stitches off and hold them on your cable needle in front of your project. Knit the following 6 stitches, then knit from your cable needle.
If a pattern reads C6B, this means slip 6 stitches off and hold them in back of your cable needle, etc.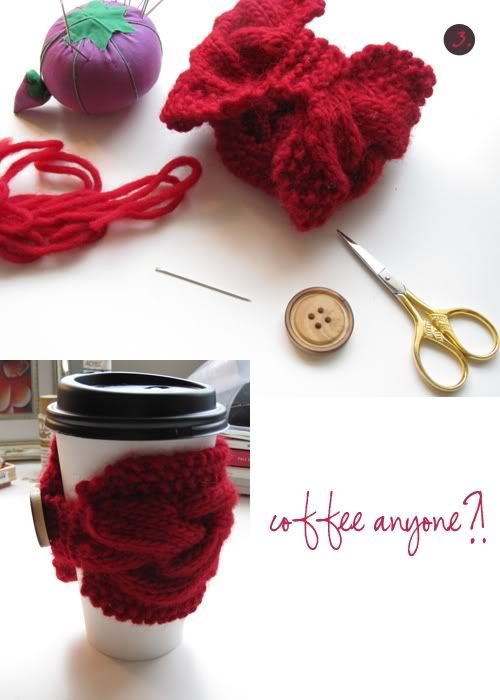 step 3: I finished my sleeve off a tad different then the pattern called for and created a larger strip that I attached to the other side with extra yarn. Sew on a large button and enjoy your next cup of (now fancy) coffee! -Or- box this up for a darling holiday gift sure to keep a loved one's hand warm this winter season :) Check in tomorrow for: a surprise guest post!