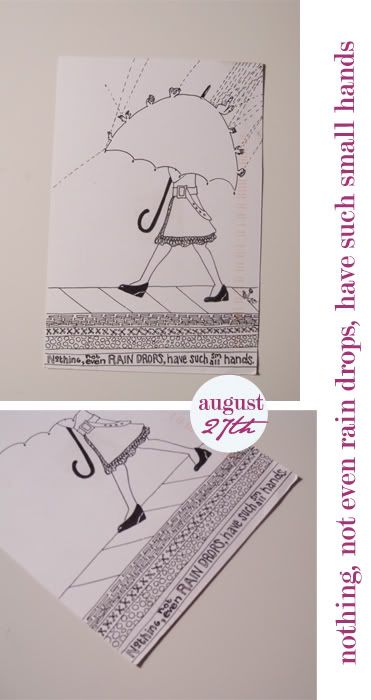 Phew
, what a start to this week! It was made better when this sweet postcard arrived in the mail from a dear friend. There of course is a story! This dear friend is miss
Rachel db
, and she has created a very fun art project. Buy a "blank" postcard from her, give it a future title, and your title will come to life via her artistic styling and be mailed to you someday in the future. It was just enough time to forget I bought this postcard and then it showed up in my mailbox making me smile
very
big! The title was inspired by
this post here
from the darling Dear Golden. Also, don't miss
Rachel db's blog
that tracks her accomplishing a list of 100 goals, all things that make me go, "oh, that's a good one".
AND
she will be one of my guest blogger's early in September! (<--very excited about this)
Home in crazy studio updates: in lieu of being accepted in an upcoming "speed networking" event next week I have been hard at work on an impromptu BeeTwixt catalog + wholesale sheet. This is on top of vacation prep, back to school posts, DIY projects, and new product coming soon to
my newest shop
.
(breath)
Happy Friday!