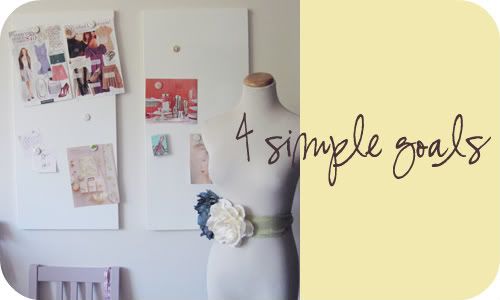 I am so excited about this! From the adorable
Elsie Cake of a beautiful mess
+
red velvet art
comes a new blog collaborative goal achieving great idea! You can read her post
here
. The concept: finish 2010 with four goals under your belt that have been sitting on the
idea or I wish shelf
for...too long.
My 4 simple goals are:
Work from home full time. This has been a dream of mine with aching desire everyday since I think I was a little girl really. I started designing clothes and styling my room from the time I was maybe 8. As I grow up new ideas come to the table and all of them make my heart very happy. I am not sure which endeavor will allow me to hang up my day job apron, maybe all of them together.
Do 10 push-ups in a row. (haha) Alright, this may sound easy, but let me tell you it is one of the hardest exercises to do properly! Over 1 1/2 years ago I took on a quest to love my body, change how I looked at food, and fall in love with exercise. I have accomplished all of these and am very proud! But my goal has been to do 10 push ups to show myself physical and mental strength. I can do 5. I am almost there!
Take photos of the everyday
. One of my brothers is a
brilliant fine art photographer
,
and my
mum
is a published scrapbooker! I am embarrassed to say I only pick up a camera to take product shots for my shops or the blog. For shame! I want everyday pictures of the small things I adore, my sweetie and I being silly, and of the city I dwell within that I fall more in love with everyday.
Enroll in a continuing education artsy class. There are truly fantastic art schools in Portland that offer short classes in very cools subjects like screen printing, metal smithing, and hat making. I am not sure which I want to snatch a seat in yet, but I would love to just be immersed in that environment.
Your turn. What are 4 simple goals that can finish out the year with you? Don't miss Elsie's post, she inspired this!