Here is what I have been a busy bee working on these past few weeks! Although this was all in preparation for
Crafty Wonderland
(in 6 days and counting!) it was great to get out my sketch book and create a whole new accessories line for gals. It has been one of those experiences where everything I dreamed up turned out as I had sketched out, that never happens! Now I will get to update
beetwixt
tonight and tomorrow.
And for the holidays shipping is just $1!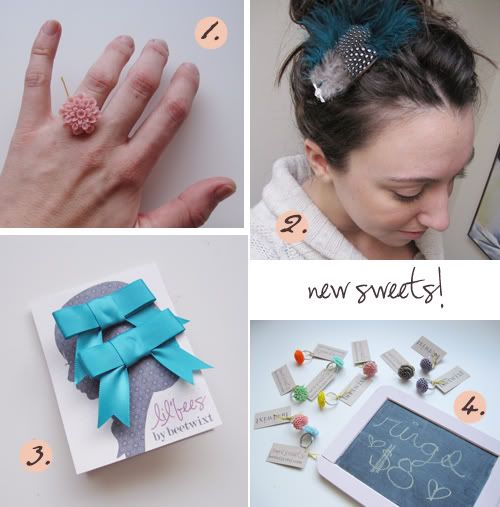 No. 1: New rings! There are many colors in dahlias and roses. These will be in my shop after the show :)
No. 2: New feather adornments! Layers of colorful feathers perfect for this season. I even have a how-to coming up...
No. 3: (My personal favorite) lil' bees hair bows for lil' girls! There are turquoise, burgundy, olive, french blue, and pink bows in two sizes.
No. 4: Here is a sneak peak of my pop up shop display! I will post a table sneak peak the day before the show
I have a few more treats this week before my super secret project is unwrapped!