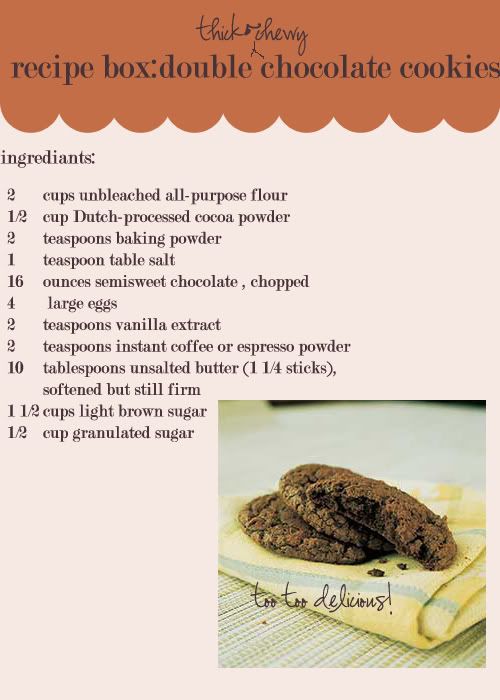 My sweetie requested cookies of the chocolate variety and these seemed to fit the bill!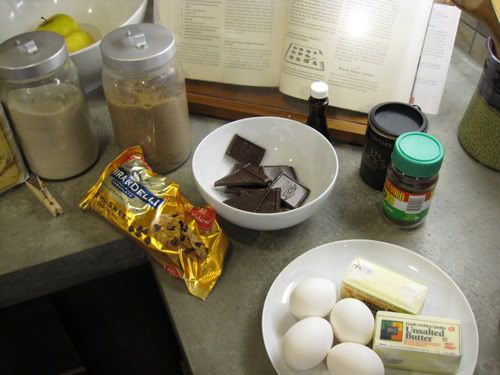 I prefer Ghiradelli chocolate, and even when a recipe calls for bittersweet I grab the semi-sweet. It's always worth the extra chocolate sweetness! This recipe comes from our
Cook's Illustrated Baking book
which I totally and completely swear by.
1. Sift together flour, cocoa, baking powder, and salt in medium bowl; set aside. Melt chocolate in medium heatproof bowl set over pan of almost-simmering water, stirring once or twice, until smooth; remove from heat. Beat eggs and vanilla lightly with fork, sprinkle coffee powder over to dissolve, and set aside.
2. In bowl of standing mixer fitted with paddle attachment (or with hand mixer), beat butter at medium speed until smooth and creamy, about 5 seconds (15 seconds with hand mixer). Beat in sugars until combined, about 45 seconds (1 1/2 minutes with hand mixer); mixture will look granular. Reduce speed to low and gradually beat in egg mixture until incorporated, about 45 seconds (1 1/2 minutes with hand mixer). Add chocolate in steady stream and beat until combined, about 40 seconds (1 minute with hand mixer). Scrape bottom and sides of bowl with rubber spatula. With mixer at low speed, add flour mixture and mix until combined, about 40 seconds (1 minute with hand mixer). Do not overbeat. Cover with plastic wrap and let stand at room temperature until consistency is scoopable and fudgelike, about 30 minutes.

3. Meanwhile, adjust oven racks to upper- and lower-middle positions and heat oven to 350 degrees. Line 2 cookie sheets with parchment paper. Leaving about 1 1/2-inches between each ball, scoop dough onto parchment-lined cookie sheets with 1 3/4-inch diameter ice cream scoop.

4. Bake cookies until edges have just begun to set but centers are still very soft, about 10 minutes, turning cookie sheets from front to back and switching from top to bottom racks halfway through baking.

5. Cool cookies on sheets about 10 minutes, slide parchment with cookies onto wire rack and cool to room temperature; remove with wide metal spatula.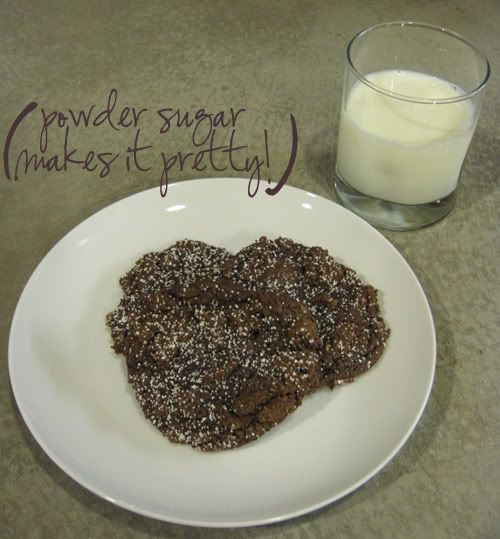 These were the perfect ending to a very cold day. The chocolate flavor was surprisingly not too sweet for how much chocolate the recipe calls for, they were perfect!